Unami Lodge Flaps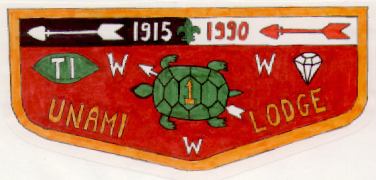 When I was in the Philadelphia area (1986–1991) I often visited Unami Lodge. The lodge's seventy-fifth anniversary was in 1990; in May 1989 I submitted two design proposals for a commemorative flap.
They selected a completely different design for the anniversary flap, but at the end of the year they decided to replace their regular-issue lodge flap with a modification of my design. The white-on-black arrow was changed to a simple bar, as Unami tradition holds that the original black sashes were made in haste and lacked arrowheads and fletchings. The anniversary dates were also removed.
A few years later, the lodge issued a special silver-bordered version of the flap for executive committee members. It took me several years to get my hands on one of these (and I'm still looking for one or two more for display purposes).